Empty space, drag to resize
Learn how to build and implement strategies and operations for Web3 that drive
results for your company and career
2h45m of content

Unlimited access forever

Mint your certificate as a non-transferable NFT

Online and at your own pace

833 Inevitable Points
Professionals from companies like these participate in our programs: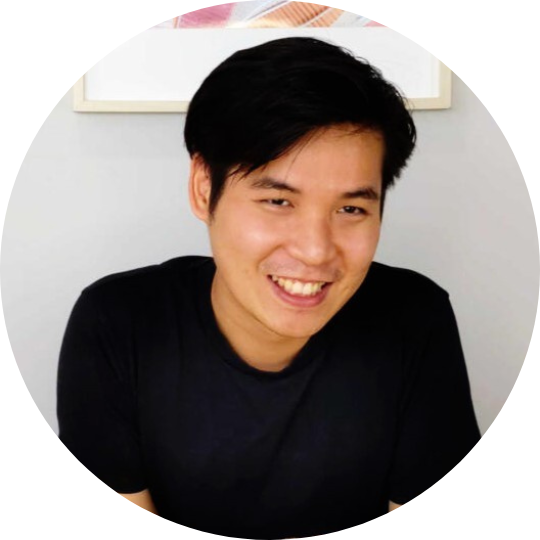 Taught BY
Nigel Lee
Soon-to-be-dad
Dog owner
Husband
Successful operator across both corporate and startup settings. The combination my experience in McKinsey, B2B SaaS, and web3 enables strategic but practical insights while getting sh*t done!
Operations & Strategy Lead at Immutable
What will you learn in this online course?
Complete this certification and receive 833 Inevitable points
Inevitable Points are awarded for users that complete Inevitable certifications. By accumulating points you will unlock Inevitable Belts and receive new belts as you finish more certifications and win more points. There are 5 levels: White Belt, Blue Belt, Purple Belt, Brown Belt, and Black Belt.
Important: The points and Belts do not have a financial aspect and they only serve as a way to show the users and the community how they are progressing on their Web 3.0 journey.
I would recommend for anyone interested in what is available in Web3 education and to network with like minds.
S. Lynch
The content is broad and deep, touching
all the topics necessary to understand in
detail how to prepare my business for the
evolution of web3.
P. Ceballos
It was great. I loved to meet new professionals in the space, have a new perspective and vision. The classes, terms and concepts were explained in a easy way.
A. Acosta
Your certificate
At the end of the bootcamp, you will be able to issue your certificate as a non-transferable NFT. 100% free. No need to have any crypto in your wallet.
Your certificate will be your pass to The Vault, our exclusive channel inside our community, just for certified Inevitable Professionals.
Empty space, drag to resize
Empty space, drag to resize
Empty space, drag to resize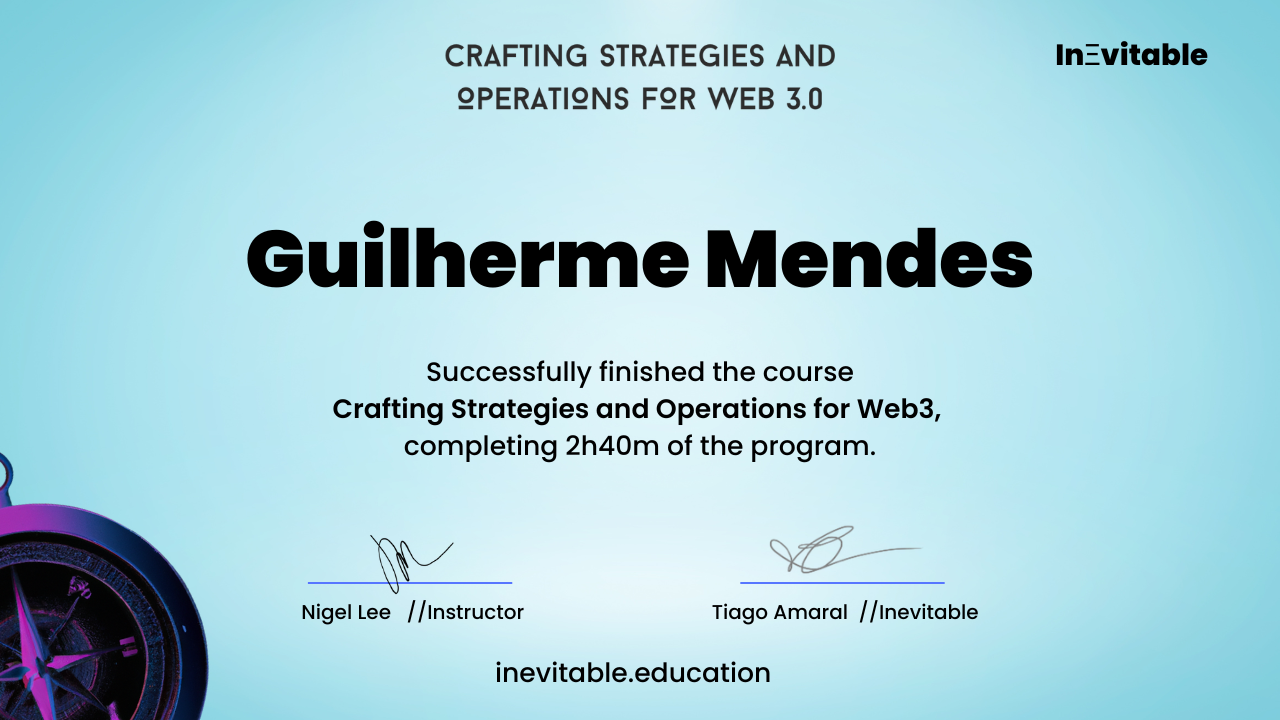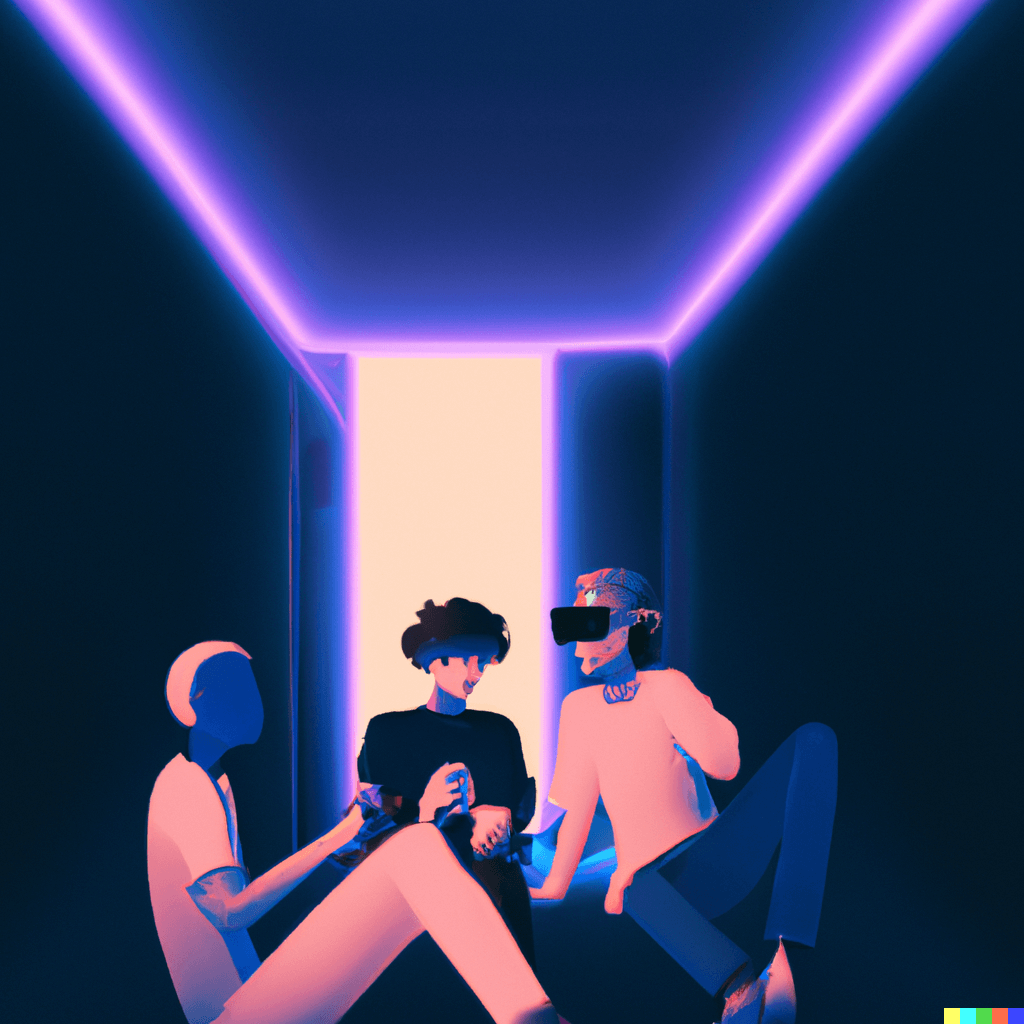 Your certification is your pass to The Vault
Inevitable Hub is a safe and exclusive place for professionals learning and building in the Web 3.0 field. The Vault is a closed channel for certified professionals, inside our community.

This way, the learning journey can become more social and continuous after a professional completes a certification within our ecosystem.
Empty space, drag to resize
Empty space, drag to resize
We walk the talk
We are a Web 3 native education company, building in-house technology and frameworks to bring companies and professionals to this new world.
We are building the best global community of Web 3 learners, builders and experts, from 120+ countries.
Original and applicable frameworks
We believe in doing. We build the frameworks to help top decision-makers embrace Web 3 in the best way possible.
The Vault
Our exclusive community for certified professionals. Join like-minded professionals from different areas and industries and connect with people solving similar problems.
Non-Transferable NFT Certification
We develop our in-house technology so you can have your own NFT certificate in the blockchain without any technical knowledge.
Fast-paced programs
We know your time is valuable. That's why we go straight to the point.
For me
$499
Instant access

High-quality video lessons

Actionable Frameworks and Methodologies

Mint your certificate as a non-transferable NFT

Access to The Vault, our exclusive community for certified Inevitable professionals

Win Inevitable Points when you mint your certificate
For my company

On demand
Buying licenses for your team? Contact us to find out about our special conditions.
When will I be able to access the course?
Access is immediate after payments made by credit card. With crypto payments, the access email will arrive within 1 hour.
Why take this course with Inevitable and not other Web 3.0 courses out there?
We are a native Web 3.0 education company. Unlike other platforms, educating about Web 3.0 is our full focus. To that end, we build in-house frameworks and technologies to create the best and largest Web 3.0 education ecosystem in the world. We partner with the best educators on Web 3.0 and we are also one of the only platforms to offer certificates as non-transferable NFTs and an exclusive community fully focused on Web 3.0, for continuous and social learning.
I want to buy licenses for my company, how can I do that?
We have special conditions for companies that want to bring the Web3 Bootcamp to their employees. Select the option "Contact us" in the Price section!
Is this a training on Crypto/NFTs/Metaverse investing?
While we know Crypto and NFTs are an important part of Web3, our focus here will be on the impacts of Web3 concepts and technologies on businesses - therefore it will touch upon NFTs and Crypto, but not on the investing and speculative side. We have other trainings focused only on Cryptos and NFTs.
Does it work for any type of industry or company?
Web3 will revolutionize many industries, so we believe that any type of leader, creator and business can use this technology to create value for their customers. Different industries will require different strategies, and that's exactly what our frameworks are meant to help with.
How long will I have access to training?
There is not expiration date.
How do I access The Vault?
You will receive instructions within the course and by email.
How long will it take for me to put what I've learned into practice?
We've designed all the frameworks so you'll be able to put them into practice as soon as you finish the course - or even before.
Do I need to pay anything to mint my certificate?
No. We have developed a sophisticated system that allows our students to mint their certificates as NFTs without having to pay gas or having any crypto in their wallet.
Do you have special conditions for NGOs and universities?
Yes! Talk with our team at we@inevitable.education!
In which languages ​​is this bootcamp available?
This specific course has an audio in English.
Will I profit from my special Inevitable Universe NFTs?
This is not the idea of the Inevitable Universe NFTs. They were created as gifts, symbols to represent users who are helping to build Web 3.0 with us. If you're thinking about profits, the Inevitable Universe is not the right collection for you.